Hello everyone, Heap here!
As you are all to aware, as am I. The album release has been continually delayed, frustratingly through no fault of our own. Today is Earth Day and 2 years ago I performed the first version of Me The Machine written with and for my Mi.Mu gloves. I am dying to let you hear the album but I have to wait, but today I want to let you hear and see the studio version and the additional music video. Hope you really enjoy it!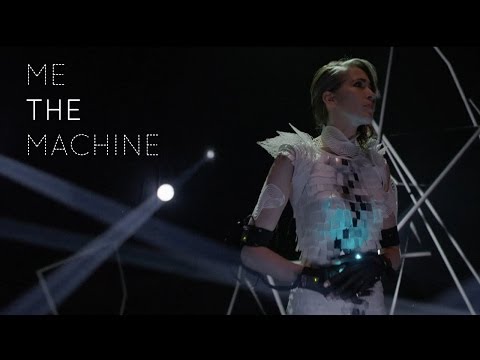 Most of the visuals are being manipulated live using my Mi.Mu gloves as I didn't just want to mime. So I went one step further and worked with the team on getting the gloves ready for visual manipulations.
If you don't already know, the Mi.Mu glove system is now on Kickstarter with only a few days left and a long way to go! It's very likely that we are not going to make our goal but we have an exciting back up plan for those people who do pledge for the gloves themselves. Having said that, ideally we would like to reach our goal, so please support in any way if you can!
These gloves are literally a dream come true for me and either way, kickstarter or not… they will survive (as I'll be using them) and somehow get into the hands of others, as all of us on the mi.mu gloves team believe, the world needs them (but of course we would do).
Also… a reminder of Love The Earth film. Some of you 2 years ago were tuned in for the original Me The Machine streamed performance from my garden, will also know that we premièred the Love The Earth film. Not heard of it?? Well In November 2010 another dream came true when I conducted, performed and premièred my first orchestral score to the beautiful crowd sourced nature film 'Love The Earth' at the Royal Albert Hall. A stunning collaborative film from hundreds of people's footage, sent in from all over the world.
Head over to lovetheearthfilm.org where you can hear the story and see the final film (it's a BIG file so may take a while to play) in all it's glory with the final recordings I made in my home studio using the orchestral performance from The Royal Albert Hall performance mixed with some of my studio wizardry.
Again, HUGE thank you to everyone who was a part of this gorgeous film. If you haven't already seen it, you're in for a treat!!
Please share the news and links.
Love from me!
Am now about to record a Heap vBlog as it's time to start a new series!! Lots going on in Heap land.
Yours, the tall bird
xxx